News
January 25, 2015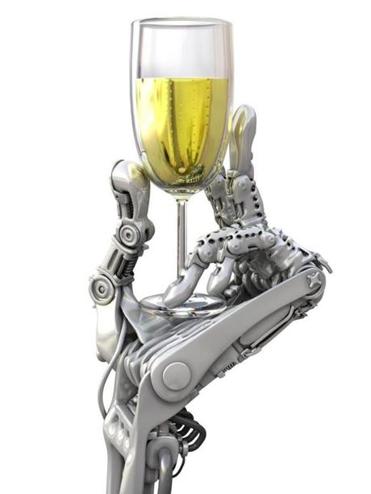 An article has been posted in The Boston Globe titled "Why we need to learn to trust robots". The article is focused on recent findings concerning research surrounding robots and a human's trust of it when controlling it from afar or working collaboratively in the same space. Head of the Robotics Lab, Holly Yanco, is featured alongside psychologlists from the University of Pennsylvania giving their insight into this issue.
Read the article on BostonGlobe.com here: http://www.bostonglobe.com/ideas/2015/01/25/why-need-learn-trust-robots/Nj6yQ5DSNsuTQlMcqnVQEI/story.html
---
August 27, 2014

The UMass Lowell Robotics Lab is now hosting a page dedicated to highlighting work with Project Tango for Robotics, featuring projects from Bosch, KitWare, and more.
Check it out here: http://robotics.cs.uml.edu/tango/
---
May 26, 2014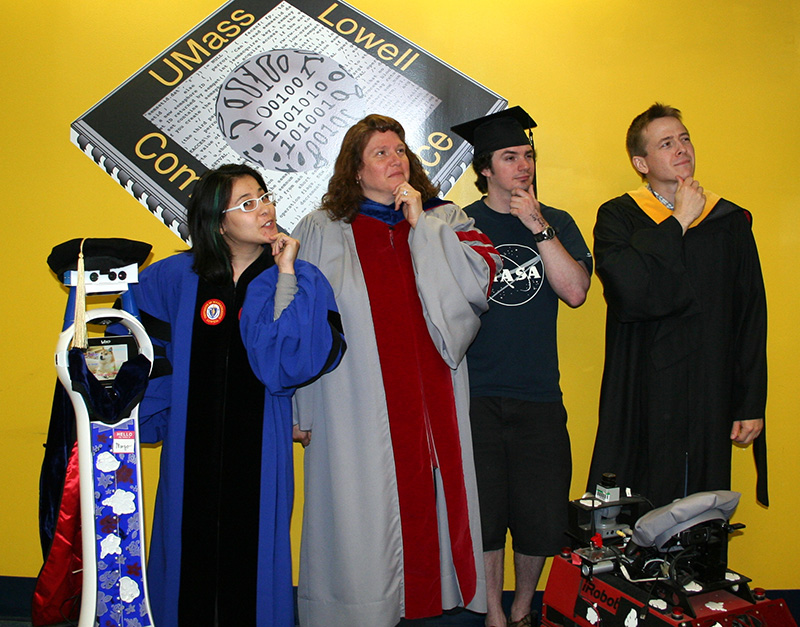 Congratulations to our recent graduates Katherine Tsui, Daniel Brooks, and Mikhail Medvedev! Here they are pictured with head of the Robotics Lab, Holly Yanco, and two of our robots: Margo and Junior.
---
April 4, 2014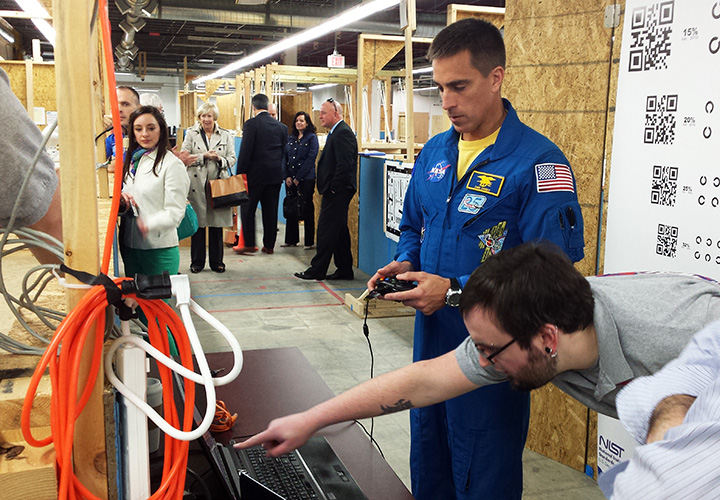 NASA Commander Christopher Cassidy visited UMass Lowell today. Robotics Lab members Adam Norton and Eric McCann gave him a tour of the NERVE Center test facility and demonstrated UMass Lowell's winning entry to the 2013 NASA RASC-AL Robo-Ops Competition, the Rover Hawk. He took control of the Rover Hawk and gave us some insight into the types of robotic devices he's used during his career as an astronaut. Even more exciting, Commander Cassidy was able to control the Rover Hawk using our interface to locate and pick up a colored rock with its gripper. This was part of a two-day tour of Lowell for the astronaut, sponsored by the city.
For more information on his visit to Lowell: http://www.lowellsun.com/breakingnews/ci_25484451/rocket-man-touches-down-lowell
---
January 29, 2014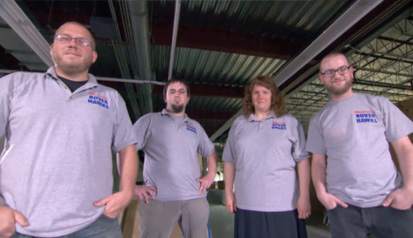 The UMass Lowell Rover Hawks and the NERVE Center were recently featured on Discovery Channel Canada's Daily Planet. The segment features interviews with Rover Hawk team members James Dalphond and Eric McCann, NERVE manager Adam Norton, and head of the Robotics Lab, Holly Yanco.
For more information on the Rover Hawks: http://roverhawks.blogspot.com/
For more information on the NERVE Center: http://nerve.uml.edu/
---