Robots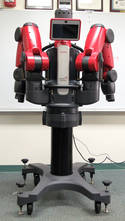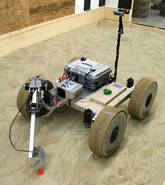 Rover Hawk
The Rover Hawk is the winner of the 2013 NASA RASC-AL Robo-Ops Competition, build by a team of undergraduates from a Robotics I class led by three graduate students. The Rover Hawk is powered by a Mini-ITX with a quad core i7, 16GB RAM, and Samsung 840 Pro SSD. A MiniBox is used for voltage regulation from 12v batteries, two Roboteq MDC2230C motor controllers, three 12v mil-spec Lithium Ion batteries, 4 windshield washer motors to control the wheels, and 4 American digital optical encoders, in custom aluminum motor mounts. 3 Logitech HD cameras, 2 on the fiberglass mast (actuated by a 2 ft-lb robotics servo), and one on the arm (able to see through the gripper). The arm and gripper are custom made from aluminum, designed in SolidWorks. Click here to see a video of the Rover Hawk in action.

Margo
Margo is a VGo Communication's VGo telepresence robot, an updated version of Hugo. Margo has been augmented with a fitPC-2 running Ubuntu, Hokuyo UGH-08 laser, Sharp IR distance sensor, MicroStrain 3DM-GX3-45 intertial measurement unit, Microsoft Kinect, Logitech C190 webcam, Phidget LED display and adapter, Phidget 1019 interface board, Phidget 1101 adapters, USB hub, Minibox car power supply regulator, cooling fan, and a tri-color LED lit plexiglass Hawaiian t-shirt.
Current research: Robotic Telepresence

Hugo
Hugo is a VGo Communication's VGo telepresence robot. We have augmented Hugo with a Beagleboard xM-B with an ARM Cortex -A8 1GHz processor & 512 MB RAM running Ubuntu 10.10, a PhidgetSpatial 3/3/3 board, a PhidgetInterfaceKit, a MiniBox DCDC-USB power converter, a Logitech webcam, and an LED lit plexiglass necktie for status indication.
Current research: Robotic Telepresence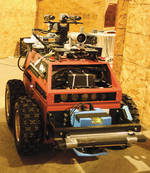 Junior
Junior is an ATRV-Jr research platform that was manufactured by i-Robot. We use Junior in our Urban Search and Rescue interface research. We have made the following hardware and software modifications to Junior: Front and Back Canon VC-C4 PTZ Cameras, Carbon Dioxide Sensor, Software control of 12 Volt devices, 4-port Simultaneous Framegrabber, FLIR Thermal Imager, 802.11a/g Wireless, Intel Core 2 Duo with 4GB of DDR2 RAM, and Linux Kernel 2.6.1.
Current research: Autonomous Robots and Trust and Multi University Research Initiative: SUBTLE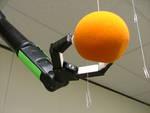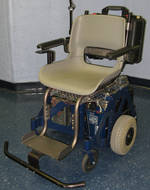 Wheeley
Previously named Wheelesley, Wheeley is a power wheelchair that was originally used by Holly Yanco during her PhD. research. We replaced the original Motorola 68332 with a full Pentium 4 2.8Ghz Mini-ITX PC. We also upgraded the motor control to a RobotEQ AX2850 with high resolution optical encoders.
Past research: Wheelesley Project Page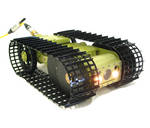 Tragus
Tragus is a VGTV (Variable Geometry Tracked Vehicle) and is a tele-operated, tethered robot. It is capable of changing its shape, depth rated to 100 feet, and equipped with a color zoom camera, two-way audio, and lights. Sensors and small equipment can be carried by Tragus into search areas.
Past research: Situation Awareness for VG Robots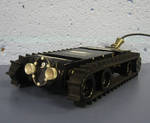 Zeke
Zeke is an Inuktun VGTV 3000 on loan from American Standard Robotics. He has a camera, lights, microphone, speaker, and can carry many small sensor payloads. His tank-like chassis design allows him to change shape or "polymorph" into several useful configurations. He is used for urban search and rescue research and educational outreach.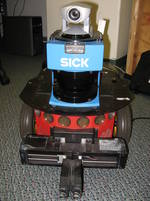 Morpheus
Morpheus is a Pioneer 3 robot which was manufactured by MobileRobots ( formally ActivMedia ). He is a standard Pentium 3 Linux box with a full sonar ring, SICK laser, and a Canon VC-C4 PTZ camera. He is currently being used for studying levels of autonomy.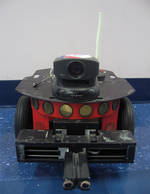 Trinity
Trinity is a Pioneer 2 robot. She is very similar to Morpheus. We primarily use her for the graduate Mobile Robotics class and the undergraduate Robotics 2 class.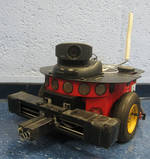 Neo
Neo is a Pioneer 3 robot, also manufactured by MobileRobots and similar to Morpheus. He is a standard Pentium 3 Linux box with a full sonar ring and a Canon VC-C4 PTZ camera. He was used in the Mobile Robotics class.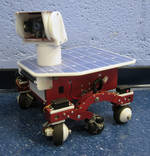 Personal Exploration Rover
The PER ( Personal Exploration Rover ) was created at CMU. It is a simple replica of a Mars Rover used by NASA. It has an infrared distance sensor and USB-CAM mounted to a pan-tilt head for sensing the environment. Its brain is a Stargate Gateway SPB400 embedded Linux system.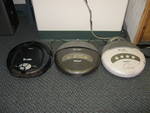 Roombas
This fleet of Roomba robots help keep the carpets in our lab clean. The white one is programmable.